Choosing a Hair Color Based on your Complexion
Matrix | January 01, 2022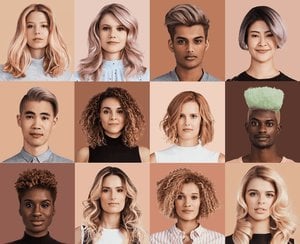 Itching to switch up your hair colour, but want to make sure you choose the right one? To avoid a hair fail (and any tears that may ensue), it's important to take your skin tone into consideration. Also, don't hesitate to ask your stylist for tips! Here are the basics.
Let's make one thing clear: there are no strict rules when it comes to choosing hair colour. Anything goes! However, when striving for results that are seamless and look natural, you'll want to steer clear of huge contrasts.
HAIR COLOR FOR…
GOLDEN, OLIVE, AND DARK SKIN
Colours with warm undertones are the best for enhancing darker complexions. Go for golden and sensuous hues like caramel chestnut or chocolate. To be avoided at all costs: very light and platinum blonde—whether as a full look or highlights—which could clash with your skin tone and yield an unnatural-looking effect.
For a natural look, go with: mahogany, chocolate, caramel, candied chestnut, or light brown.
For a bit more extravagance: burgundy, silvery grey, ashy pink, or navy blue
FAIR SKIN
Ideally, your hair colour should give your complexion a boost of radiance. The guidelines are the same as when choosing base makeup: anything dark is not your friend. To keep things looking balanced and avoid any extremes, start by taking the natural colour of your brows and roots into consideration. Also, beware of hues that are too golden in comparison to your natural hair colour: they could make your complexion look dull, rather than brighten it up.
For a natural look, go with: blonde and all its variations, from golden to platinum, as well as ombré and bronde.
For a bit more extravagance: fuchsia, blue-grey, lilac, or colormelted pastels
PORCELAIN SKIN
It's crucial for your chosen hair colour to enhance your milky complexion rather than take away from it. The same as for fair skin tones, your chosen hair hue should help brighten up your face. Ideally, you'd go with a glossy finish to add some shine and depth to your strands. As for matte colours, they aren't recommended for milky skin, for fear of making you look washed out.
For a natural look, go with: licorice, cacao, or candied chestnut
For a bit more extravagance: bright red, blorange, or rose gold
REDHEAD SKIN
Many are envious of the gorgeous complexion that often comes with being a natural redhead: fair, with pink undertones and a few freckles. For natural-looking results, it's important to choose a hue that will enhance your skin tone. Luckily, you can turn to a slew of warm hues, as long as you don't go too dark.
For a natural look, go with: venetian, golden, or copper blonde.
For a bit more extravagance: prune, intense red, ashy green, or golden apricot.
The easiest way to find the perfect hue? Ask a hair colour pro! Right this way to find the one closest to you: https://www.matrixprofessional.ca/