Does Colored Hair Look Unprofessional?
Matrix | December 08, 2022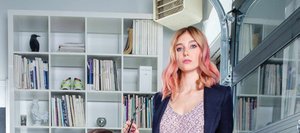 When it comes to colored hair it can often have a reputation for being unprofessional. While each industry is different and there's no denying that some aren't quite ready for it, colored hair can actually be perfectly professional for the workplace! The key is to making sure it's done correctly.
We are a modern society that is constantly pushing the status quo and our hair should be a reflection of this. Your hair color in no way reflects how professional you are and a lot of industries are beginning to understand this. If you've been wanting to try colored hair, it's certainly something that you can do while still being taken seriously.
With the warmer weather here it's only natural to want more color brought into your life, and your hair is the perfect way to do this! Colored hair almost acts like accessory and so what better time than now to take the plunge and try something new?
Placement of hair is key when it comes to coloring your hair. Booking a salon visit is going to be your best bet when it comes to getting colored hair that still looks professional. We have trained professionals who know exactly how to give you the color you crave without making it look too over the top.
Expert stylist Pamela Walmsley points out that "home color is messy and is a one size fits most kind of idea" further proving that a salon appointment is going to give you your best results. She also says that "salon color is customized to suit not only you but it also addresses your specific needs".
Hair color is changeable and isn't something that affects how efficient or hard working an individual is. Plus, your stylist can work with you to let you know which colors are going to best suit you. For example, jewel tones are a great option if your hair is naturally dark and pastels will make a nice choice for those with naturally light hair.
Colored hair doesn't have to be head turning, neon hues (though it totally can be if you want). There is so much versatility when it comes to coloring your hair and a stylist can help you see that and decide on a color perfect for you!