Hair Color: This Season's 5 Most Beautiful Shades of Red
Matrix | January 01, 2022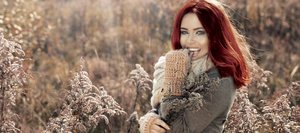 Red hair is synonymous with flamboyance. What if there were as many shades of red for your hair as there are red lipsticks? You're in luck: Matrix has developed five sublime hues to try as soon as you can.
Inspiration: chic, lipstick-worthy red
There is nothing like a touch of red on your lips to help boost your confidence. Why not apply the same principle to your hair? Conjure up the sensuality of Ginger Rogers, or the sexy confidence of Jessica Rabbit.
Matrix has chosen five vibrant shades of red that will fit you like a glove… or a lipstick!
A wine lees red with touches of violet that works wonders on dark hair.

A light violet red that is sublime on brown or chestnut hair.

A true red that is vibrant, intense, and perfect for brown hair.

A brassy red for those with chestnut hair who want to flirt with red.

A classic red that is as beautiful and timeless as a gorgeous shade of lipstick.


Crazy about red
The thing with red is that it fades very fast. The colours developed by Matrix contain HD technology, which allows the pigments to create unique, long-lasting shades.


The result:
- Red hair even when you start with a dark base.
- Intense, vibrant strands that look the same as when you first walked out of the salon!
- Bright, even colour that covers up greys (if you have any).



To each their own
Regardless of your eye, skin, or natural hair colour, there is a shade of red for you. The best part: it is customizable, and the possibilities are endless. Your colorist can help you figure out which red to try within this wonderful palette.
Ready to go red? Find your hair ally at Matrix.