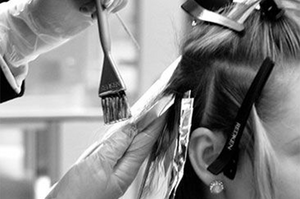 At Matrix, we color with confidence!
Our pre-bonded, easy to use color, empowers hairdressers of all ages, backgrounds, and levels of expertise to deliver next level looks and realize their creative and professional potential. At Matrix, everyone is welcome. Our community welcomes everyone through education for every stylist, innovation for every hair type and support for every business model.
Our permanent and demi permanent portfolio is vegan, Made in Canada, and pre-bonded for every fiber. Our exclusive Bond-Protecting Concentrate protects the inner hair structure–so you can maintain the integrity of the hair, color after color. Our portfolio is also pre-blended with background and reflect–so stylists can neutralize every underlying pigment. Our permanent and demi-permanent oxidative dyes are also perfectly matched – so you can achieve seamless, root-to-tip color, that lasts and fades on tone.
To highlight all of the reasons we love Matrix's Pre-Bonded Color portfolio we turned our Matrix Canada Artistic Team in a series we titled Matrix 42 Questions.
Meet Our Team
Manny Dimi

Manny is one of our newest artists to join the Matrix Canada brand.
Derrick Rutherford and Julio Rodriguez
Derrick Rutherford is an Ambassador for Matrix Canada known for his quick wit, haircutting technique and design. He is a long-time ambassador for Matrix with over 25 years sharing his craft internationally as an original Global Design Team member. He has helped launch the brand in Asia, South Pacific, Europe, South America, and North America. Derrick is passionate of his craft as a hairdresser and entrepreneur. He has mentored his team and salon to achieve great success. His signature program, The Rutherford Way, which empowers stylist and salon owners to reach their full potential is a labour of love that he has experienced and is ready to share. Derrick is a 2013 Mirror Award winner, Bangstyle Supreme, and Contessa finalist 2019 for Salon Team.
Julio is a 2013 Mirror Award winner Salon Team, three-time Contessa finalist in Master Colorist, Salon Team, and Avant Garde. He is also a three-time Bangstyle Supreme. He has traveled across North America, Europe, and Eastern Europe sharing his passion and representing the brand for over 26 years. "My fascination with blondes comes from an early age with my love of beautiful Hollywood bombshells. I have always been enamored with beautiful, shiny, healthy, gorgeous, lustrous hair. I really believe in treating hair with the upmost respect and integrity. It's that strong belief that has given me great success as a colorist. Everyone can be blonde as long as it's the right tone for their skin and eye colour and they practice a great at-home regimen.
Rodrigo Araneda
As a hairstylist for over 25 years, Rodrigo is the third generation of a hairdresser and competitor in his family, so you could say that hairstyling is in his DNA. He has worked for some of the biggest names in the industry, demonstrating his passion for photography and high-level competitions. During his time at Matrix, he has been chosen to mentor the Destination Fame photo/coiffure competition and has collaborated on the production of several of their photo collections. Over the years, he has won many competitions organized by the ABA and for the last two years, he was a finalist in the Contessa Master Elite category. Rodrigo has won several national and international awards, including the prestigious Naha 2018 in Las Vegas (North American Stylist Award) from the respected Professional Beauty Association of the United States in the haircutting category. He has worked for many high-fashion designers on runways, such as Fashion Week in New York City. Rodrigo's goal is to motivate hairdressers to reach their full potential by sharing simple and efficient techniques.